Aerial Yoga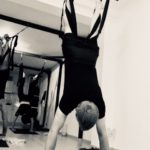 Aerial yoga, my great love: FUN TIME!
Minder last van de zwaartekracht. Dat helpt je om nog dieper in je houdingen te komen. Minder weerstand en meer ruimte dus.
Grensverleggend, acrobatisch, geestverruimend, rustgevend, activerend, speels…..Geen woorden voor! You will leave your comfortzone, but hey…life begins at the end of your comfortzone!
Je maakt jouw lichaam sterker, verbetert jouw balans, lenigheid & souplesse.
Workshop:
Vrijdag 2 augustus 19.00-21.00 €35,-
Check lesrooster voor de lessen aerial yoga.
Aanmelden voor de workshop of een proefles: buddhayogabelgie@gmail.com