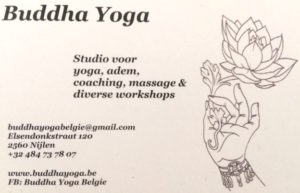 Nieuws!
Buddha Yoga is op zoek naar een yogadocent(e) voor 2 lessen op donderdagavond. Vanaf september. Een actieve les zoals poweryoga of vinyasa yoga en een les yinyoga.
Ben jij degene die ik zoek, of ken je iemand? Bel of mail mij dan.
De zomer komt eraan, mensen gaan met verlof. Er zullen hier en daar dus wel wat plekjes vrijkomen gedurende de verlofperiode.
Aanmelden voor een (proef)les doe je via mail: buddhayogabelgie@gmail.com
Zomerverlof: 6-26 augustus 2018
Today's Classes
9:00 - Aerial Yin Yoga
19:00 - Aerial yoga
20:30 - Aerial yoga